2021 SAM Parent Assembly Magician of the Year
Douglas "LEFTY" Leferovich
The Parent Assembly #1 of the Society of American Magicians is excited to name Douglas "LEFTY" Leferovich as the Parent Assembly's 2021 Magician of the Year. Douglas joins a select group of magicians being recognized for his contributions to elevating the magical arts including his own father John Leferovich. Douglas has been a member or the Parent Assembly for over 30 years, lives and works in Las Vegas. In the world of magic, Doug is a Creative Director, Featured Performer and a Magic Consultant.
Douglas has worked on many shows up and down the Las Vegas strip. He has worn many different hats, from being a creative director, lighting designer, set designer, and production / technical director having worked with Wayne Newton, Frank Marino, Human Nature, and Recycled Percussion to name a few. Having been fortunate enough to perform all over the world over the past 25 years, Douglas LEFTY Leferovich is currently the special guest act in the show MURRAY The Magician at the Laugh Factory inside the Tropicana Las Vegas Casino Hotel Resort on the Las Vegas Strip. After years of performing magic in front of the camera, over the last several years, Douglas has stepped behind the camera to consult for some of magic's biggest names as they perform incredible illusions and stunts on television for millions of viewers. Congratulations!
Douglas will be honored the at the 112th Annual Salute to Magic! (Currently being planned as a live virtual event airing June 22, 2021 at 8pm. More details about the event will follow.)
Native New Yorker Douglas Leferovich has been surrounded by magic all his life.
When he was four years old, he performed the changing silks for his pre-K class and a career was launched. The fascination with magic continued to grow and became a significant part of his life.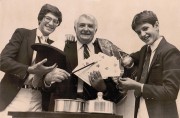 Performing as "Magic by the 3 L's," Douglas, along with older brother Johnny and Dad found family fun and some financial success as the main attraction at birthday parties, school assemblies, library shows and company picnics. Truly bitten by the magic bug, Douglas went to Tannen's Magic Camp where he honed his craft learning from the best. In 1990, Douglas was off to the University of Pennsylvania where he was a communications major with a minor in marketing/advertising at the Wharton Business School. While at Penn, Douglas continued to perform magic and was hired as a consultant for the student production of Barnum. It was at Penn that Douglas met his future business partner, Seth Yudof.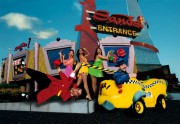 After graduation, Douglas and Seth created the visual comedy and magic act called The Gamesters. For the next five years, they toured the world performing in magic and variety shows and making several international TV appearances. Their dream was realized when Manhattan Magic, a full evening production show that they created, wrote, directed and starred in had a successful run at the Sands Casino Hotel in Atlantic City.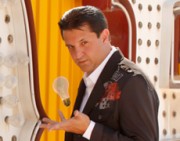 Over the past 10 years, Douglas has emerged as a force in Las Vegas entertainment as a result of his creativity and production expertise. Whether consulting on over a dozen headline shows in Las Vegas or performing in the Strip's major casinos and hotels, it has become clear that Douglas has added his own special magical touch to many of the shows that audiences enjoy when they come to the entertainment capital of the world.
Please follow and like us: